Westchester Flames Gala 2023 – A Celebration of Sean Kenny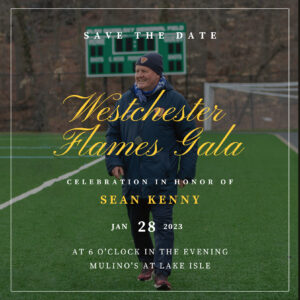 Dear Flames Parents, Players and Fans
Join us on Saturday, January 28th 2023 at Mulino's at Lake Isle in Eastchester, NY for the Annual Westchester Flames Gala as we bring together our community for an evening dedicated to raising crucial funds for our scholarship players that cannot afford the club tuition. All tickets & tables will include a beautiful 3-course sit-down dinner, beer & wine, access to an amazing auction, dancing and more! The evening will also have the pleasure of honoring Westchester Flames Director of Coaching, Sean Kenny! 
Gala tables & tickets are available for purchase now! Tickets are $130 per person and $100 per person ages 20 and under.  Discounts are given for tables of 10.
Reserve your tables and tickets now as the club anticipates tickets to sell fast and the venue can only accommodate a certain number.  Corporate tables are already selling and the many clubs and sport teams that Coach Kenny has come into contact with are lining up to get in!
Here is our event website link: bit.ly/WestchesterFlamesGala. If you click on "Tickets & Tables," it will navigate to another browser to purchase the tickets.