Cooper Keating, Westchester Flames 2007 Elite, Trains and Competes in England
Cooper Keating, Westchester Flames 2007 Elite, spent the first week in August playing soccer with 16 other B2007American teammates, thanks to a trip spo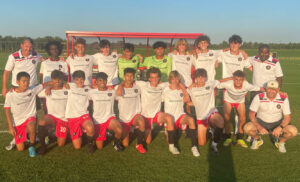 nsored by Soccer.com, managed by InspireSports and with the opportunity made available to him with the support of his coaches and team managers at Westchester Flames.  It was an amazing week of world-class soccer, with training sessions at elite academies, playing against local British teams, touring renowned football stadiums in London, Manchester and Liverpool, and forging new friendships along the way.
The boys team was assembled from elite teams on the east coast, with a player from Florida, South Carolina, Alabama, Georgia, Oklahoma, North Carolina, Pennsylvania, and two players from each of Virginia, Massachusetts, Connecticut, New Jersey and New York.  In addition to Cooper, NY was represented by a player from Rochester.  The only team Cooper's Westchester Flames had played in recent years was Morris Elite from Union, New Jersey.  A girls 2007 team was similarly assembled from western states.
The boys' team was led by three outstanding coaches:  Goran Vasic from Sporting CT, Paul Turner from Seacoast United (Massachusetts) and Dwayne James from Beach FC.  All three are not only top tier coaches, they're also passionate and approachable.  They worked together to elevate the level of play and created an environment that was lots of fun.
The first day in London was about meeting teammates.  What started as an awkward team picture that turned into a ball circle in the parking lot……emerged a team, ready for their first elite training session at the Tottenham Hotspur Training Grounds.
Two more several hour training sessions followed in the days ahead, with Manchester United's development league coaching staff.  The practice grounds were gorgeous, the coaching was inspiring.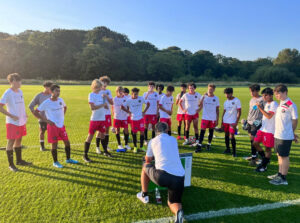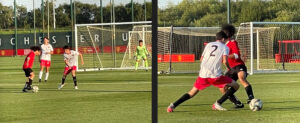 The boys played three local teams, the first being a mismatch with Burnley, a local Manchester team that exploited the boy's relative unfamiliarity playing with each other, beating our boys 8-3.
Cooper noted "I was surprised to learn firsthand how different the English game is compared to here in the states.  It is dirtier, more physical.  I was surprised too that the size of players was less matched to position – we played against some small center backs and big forwards."
The next two contests were victories for us Americans, with a convincing 9-0 win over Fleetwood FC…
…And a 4-0 victory over a B2007-8 squad comprised of boys trying out for the Manchester development program.  Team USA represented us well.
Cooper noted "The first time we played together, we connected only a few passes and had almost no combinations.  But by the final game it was like we'd been playing together as a team for years."
There was some sightseeing along the way, including a visit to the National Football Museum with the girls' team.   Friendships were made…
The week was capped off attending a Premiere League game where Manchester City easily handled an out-gunned Bournemouth 4-0.

When asked what was most fun about the trip, Cooper noted "Playing games against British teams was a blast.  But right up there was hanging out with the guys on my squad."
You may have noticed from the preceding photos that a half dozen kits were used during the course of the week.  The trip sponsor Soccer.com was incredibly generous not only in styling the boys up, but in providing for an experience that was top drawer across the board, from the hotels, meals, flights and bus transport. InspireSports ran a flawless experience, providing persistent and clear communications throughout the trip to keep everyone organized.  The boys and their supporters were treated like rock stars and experienced the trip of a lifetime.  When asked what his biggest take-away from the experience was, Cooper said "I learned that I'm going to have to work real hard to continue to play at the elite level, because the competition is global and talented and only getting better."
On behalf of the club, we wish Cooper and his teammates great success for the upcoming season!